Take Your Business to the Next Level!
Branding and Web Design Solutions
Affordable, effective, personalized design that help busy small business owners stand out from their competition.
As a business owner, time is your most valuable asset. But you probably find yourself wearing a lot of hats while running your business. Most likely you've found yourself juggling too many things at once.
Let me help you. Save yourself the time and trouble of trying to figure out how to create your brand, design a professional website and maintain it regularly. Your time is such a valuable resource — spend it wisely, doing what you're good at.
Join the many other small business owners who have benefited from investing in a professional graphic and web designer. They have received successful marketing, heightened interest, an increase in sales, a loyal customer base, and a strong brand equity in the long-term.
Your visual branding can make or break your business. There's just no ignoring the value good design has on your business' image. And hey, it's your business! You should have a brand identity that you can take pride in — one that reflects what you're truly about, and works just as hard as you do!
Ready to take your business to the next level?
You know it's time to take your business to the next level. But you find yourself with little to no time to work on your marketing strategies.
Take a look at these stats and you'll see how investing in professional branding and online presence can pay off.
Consistent presentation of a brand has seen to increase revenue by 33%. 

48% of people cited a website's design as the number one factor in deciding the credibility of a business.

That's almost half of all users!

94% of first impressions relate to your site's web design.
Ready to invest in results? Get in touch with me and let's chat!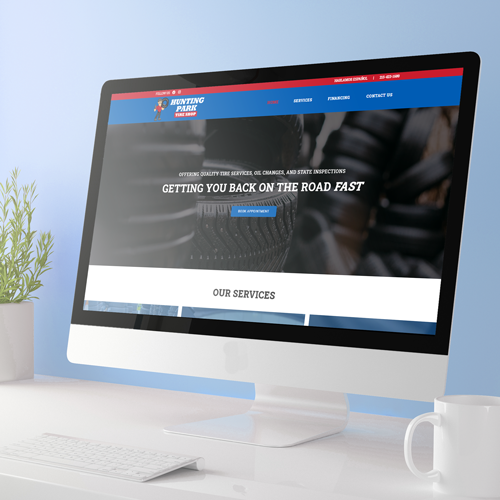 Featured Case Study
40% Increase
in Revenue
Get tips and tricks to grow your business directly to your inbox.
Check out my girl for all your business, social media, website needs. She does my social media posts weekly. She does all the hard work for me and in the process the posts reach so many people and gets my business name out there. I definitely recommend her to anyone who wants to promote, build, and reach even more people!
Meliza Pizarro
Owner at Hunting Park Tire Shop
During the pandemic, I wanted to take the time to rebrand my business and improve our online presence. Kim designed everything exactly how I envisioned and above expectation. She takes the time to listen and I love working with her. I look forward to continue working with her for all my business needs.
Peter Watts
Owner at Watts Fitness Studio
Kimberly has always gone above and beyond for what I have asked for. She's attentive and creates unique content. And she's reasonably priced! I highly recommend her with any of your marketing needs.
Michelle Pacheco
Owner at Michelle Dental Billing Services